This week I was working on getting out birth announcements for Chelsea, my cousin's newborn. They're ready to ship out! Yay!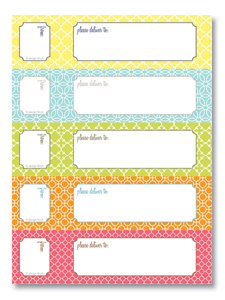 Design Finch
has some free labels for you to use and download as I have used for these 50 birth announcements for my cousin! They're gorgeous and easy to use. Just type into them the info that you need and print it out! The only issue I had was I couldn't save it with my version of Adobe Acrobat Reader.
You may have noticed that these labels have a "from" area. I didn't use them because my cousin already had preprinted labels that she wanted me to use (I put those on the envelope flap in the back), so I just cut them off. They still look very fun though. :)
I also want to show you a card that I made using ribbon that I won from
Laine's
blog giveaway. :)
The pattern on the bottom is actually the envelope. I couldn't figure out how to photograph it properly. :D The baby blocks were cut out of blue textured cardstock. It's centers are little footsies (pattern paper).
This weekend is gorgeous in NYC. We will be going to the
World Maker Faire
at the Hall of Science (which is a fabulous science museum in Queens, NY--so many fun opportunities to learn in a fun environment)!
Entering this card in: